Saturday
Saturday morning we returned to Burbank to host a playdate with Pooter's old gang. A good time was had by all, but it was even more special for Leah, who was celebrating her first birthday.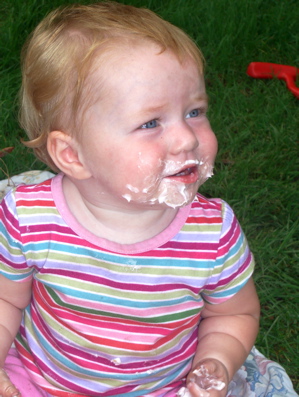 After the playdate, we returned home to watch the football game and have some pizza with Gigi and Papa. It was a nailbiter (something we Trojan fans aren't used to), but we pulled it out in the end, 28-22, over Washington State. That brings the Trojans' streaks to:
36 straight regular-season wins
25 straight Pac-10 wins
17 straight road wins
After the game, Coach Pete delivered a bit of level-headed wisdom to those spoiled fans who are prone to panic everytime we don't win by 30:
"This is a program that needs experiences to learn from and to grow and we're getting challenged… The conference is stout and we're fighting our tails off."
Below, we see Freshman safety Taylor Mayes picking off Wazzoo QB Alex Brink to end the game: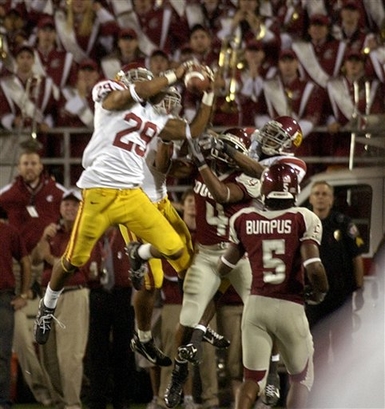 Sunday
Sunday morning Jen and Tiari took Pooter and Devanae Mickey's Magic Show at the Kodak Theatre in Hollywood, where they met up with the whole Audette clan (Jon, Jen, Becca, and Emma) plus a couple dozen other members of the Burbank playgroup.